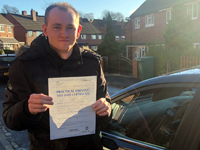 Craig Smith
Passed 1st time
A Big thank you to Mick in helping me pass first time. I wouldn't be able to do it without him.Lessons were fun and enjoyable and helped me with my confidence and gave good advice. Could't wish for a better instructor and would highly recommend Mick to anyone who's wanting to learn to drive.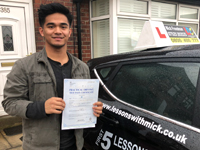 Carlo Natividad
Passed first time
Mick has always been a good instructor. He makes every lesson interesting and knowledgeable, that helped me to be a more confident and discipline behind the wheel, Thanks Mick!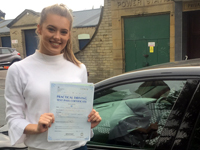 Phoebe Roberts
Passed 1st time
Can't thank Mick enough for all his fabulous teaching, encouragement and patience. Mick is very friendly, very personable and I can highly recommend lessons with him. Thank you so much, pheebs xx
Sayjel Mistry
Passed 1st time
Thanks to Mick I passed first time and had so much fun while learning! Mick is an amazing instructor who is patient, fun and made me feel so at ease. We had great chats when driving around and I'll definitely miss having lessons. I can't recommend Mick highly enough, I couldn't have asked for a better instructor thank you so much Mick!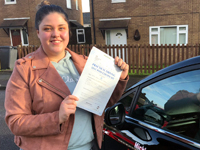 Katie Louise Mitchell
Passed 1st time
Mick is definitely the best driving instructor I have ever learnt with, He makes every lesson enjoyable and fun, Definitely going to miss lessons with you Mick. Thank you so much.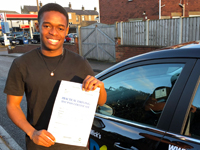 Arnold Ndiweni
Where do I even start? First of all, before I started with Mick I thought I knew how to drive but as soon as I started with him he gave me a whole new driving experience and taught me how to drive safe and correct. Secondly, Mick is very good at his profession because he is very reliable,organised and honest. This man will basically give you the tools you need to pass your theory test and then go on to pass your practical test with flying colours. Finally, during driving lessons with Mick, I can happily say that I can call him my friend now. This is because he made the lessons easy, fun and enjoyable by speaking about stuff that I was interested in e.g. I am passionate about football and anytime I made a mistake, he put it into a football perspective to make it easier for me to understand. This really helped me because I was more engaged and began to listen more. So therefore, this what makes Mick an outstanding instructor compared to others because he understands his students very well. Keep up the good work Mick.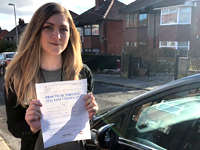 Natasha Canning
Mick is a kind, patient and fun driving instructor who goes the extra mile for his students that are willing to learn. After a couple of rocky lessons and Mick's patience I actually started to enjoy my lessons rather than dread them! I found the LDC book, DVD and online portal really useful too as they meant I could do extra learning alongside my lessons and update Mick on my progress. I now feel confident when driving and passed on Friday with only two minors! I couldn't have asked for a better instructor. Thanks again Mick, see you soon for pass plus!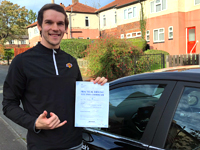 Nathan Gomersal
Well. What can I say? Phenomenal instructor. Had lessons before and didn't enjoy driving at all - I was hesitant to even start again - but he's patient if you need time. He pushes you if you need pushing. He's adaptable to your needs as a learner. Best instructor out there! Should've passed first time with only 1 minor but 2nd times the charm. Thanks for everything Mick!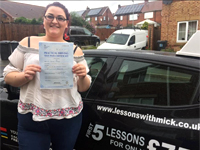 Lorraine Sherwood
Mick is an absolutely amazing driving instructor- despite accidentally nearly killing us both you kept me motivated and boosted up my confidence! You're hilarious, professional and always put so much effort into making sure all of your students are working towards the ultimate goal of passing! You aren't just a driving instructor- you've listened to me moan about my daily issues and been there to give me sound advice... couldn't have asked for a better driving instructor! Would highly recommend to anyone who is wanting to start driving!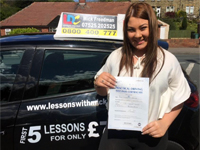 Eleanor Rose
PASSED 1ST TIME
I've recently just passed 1st time, thanks to Mick I was prepared and confident. I cannot fault him he's so supportive! Thank you so much for making me feel safe and sound during my lessons and I couldn't have done it without you! 10000/10 😁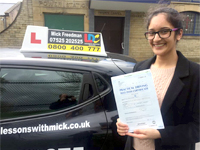 Manmeet Kaur
Mick has been an amazing driving instructor - not once did Mick ever doubt my driving ability and now I feel like a safe and confident driver. Although the journey to getting a pass was a long one, I managed to get there in the end. He's friendly, professional, funny and understanding - the best combination for a driving instructor! He's always willing to put in that extra effort in order to make sure you're fully confident when driving. I was ready to throw the towel in a couple of times but the encouragement I received from Mick meant that I didn't and I really do appreciate everything. I would 100% recommend Mick - he's great!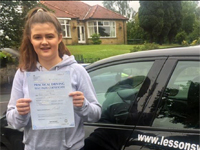 Lucy white
Mick is an amazing driving instructor! He is very patient and supportive!! I was so nervous when I started but he taught me to be confident and today I passed !! I would highly recommend Mick to anyone looking for a driving instructor!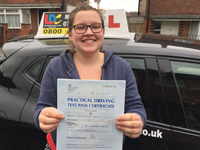 Stephanie Louise Holroyd
Thank you
Thank you Mick! After my last instructor let me down you did everything you could to fit my in to pass my test and I have finally done it you are a star and you are fantastic! I will recommend you to everyone :-)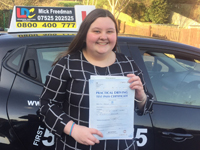 Rebecca Sokol
Great Instructor
Great instructor very patient Had the best time learning and I have passed after only learning for 4 months I have enjoyed every minute learning thank you so much.
Kate Bosley
Brilliant Instructor
Absolutely brilliant instructor, lessons are so much fun and you get better every time you're in the car. So helpful with any questions and will go to the end of the earth to make sure you pass! :D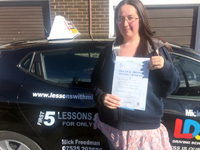 Clare Hirst
Passed 1st time
Passed my test first time today after lessons with Mick, hes a fantastic instructor, really patient and helpful and will go out of his way to help. Would definitely recommend him to anyone wanting to learn to drive.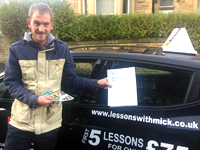 Malcolm Gill
Excellent driving skills fantastic teacher, 10 out of 10 I would deffo recommend Mick Freedman, I can't thank you enough cheers mate.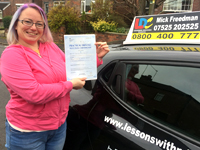 Karolina Mallory
Professional, friendly and very competent instructor. I was driving with Mick for over 3 months and got my exam passed with flying colours. I could always rely on great advice and confidence boost when I felt low. At the same time we had fun but we always stayed safe on roads. So if you want your test passing nice and smoothly ring Mick and book yourself in.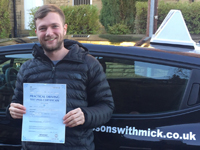 Marcus Guthrie
Extremely happy with my lessons with Mick. Such a friendly, and determined driving instructor. He went above and beyond his job and was keen to ensure I passed by really making the course work well for my personal circumstances. He managed to make learning to drive enjoyable and really taught with great enthusiasm. Thankyou!